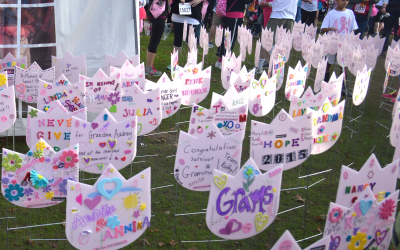 A Tribute to Breast Cancer Survivors and Fighters
Race day, we celebrate survivors and fighters for their courage, determination and hope. We are united in our mission and life saving services to fight breast cancer and move closer to a cure. Hope Village, sponsored by Fred Meyer, is every survivors and fighters place to relax and connect with loved ones! Survivors and fighters are our warriors in pink….our heroes!
For more information on our survivor and fighter programs, click here.
Hope City Features
We invite all survivors and fighters to join the festivities and connect with friends and family. Each survivor and fighter is welcome to bring a guest and enjoy a continental breakfast, socializing, a goodie bag, a survivor pin and photo booth!
*NEW* The Reflection Garden is a way to honor those we have lost to breast cancer, and celebrate the courage of survivors and forever fighters with inspirational messages and quotes. The reflection garden will be on display by Hope Village on Race Day. More details to come.